All checks have been delivered to their respective charities and below you can learn more about how your involvement in the Southern California Charity Golf Classic helped to impact the lives of others.
We made a difference on July 17, 2015 and can't wait for next year.
For those of you who ordered golf shirts, they just came in and are ready for distribution (See the complete list of golfers who ordered below).
I'd like to deliver them by hand, so you can email me your address and/or give me a call so I can bring them by – (909) 973 – 9089.
Lastly, if you haven't heard already, Cindy and I gave birth to our son, Sebastian.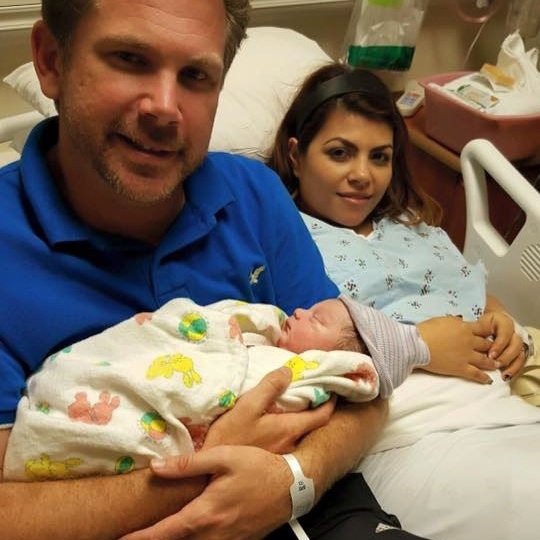 Thank you for playing in the Southern California Charity Golf Classic. Look for an email in January announcing the date for the 2016 Southern California Charity Golf Classic and early registration pricing.
Thank you all for everything!
Zeb
We Raised $7,597.81 for Charity!
Boys Republic: $904.14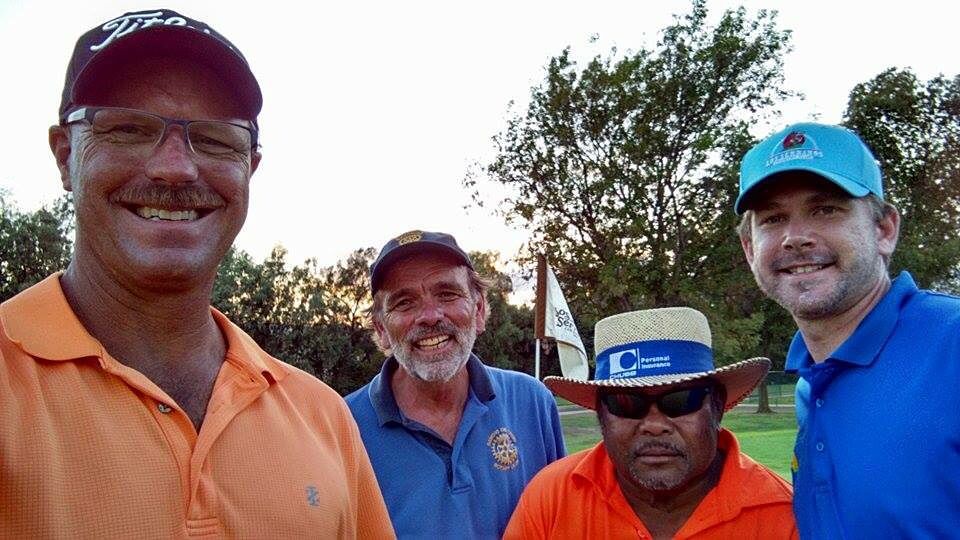 David Kramer, Senior Vice President at Los Serranos Country Club and Michael Toomey, a Boys Republic Board Advisor worked to help make the Southern California Charity Golf Classic a success.
The money raised for Boys Republic will be going towards their new Culinary Kitchen project. The boys will not only learn the Culinary Arts but also how to be confident in a restaurant setting and help prepare them to become Chefs.
Boys Republic is a private, nonprofit, nonsectarian school and treatment community for troubled youngsters. Since its founding in 1907, it has guided more than 30,000 at-risk teenage boys and girls toward productive, fulfilling lives.
The Let It Be Foundation: $828.16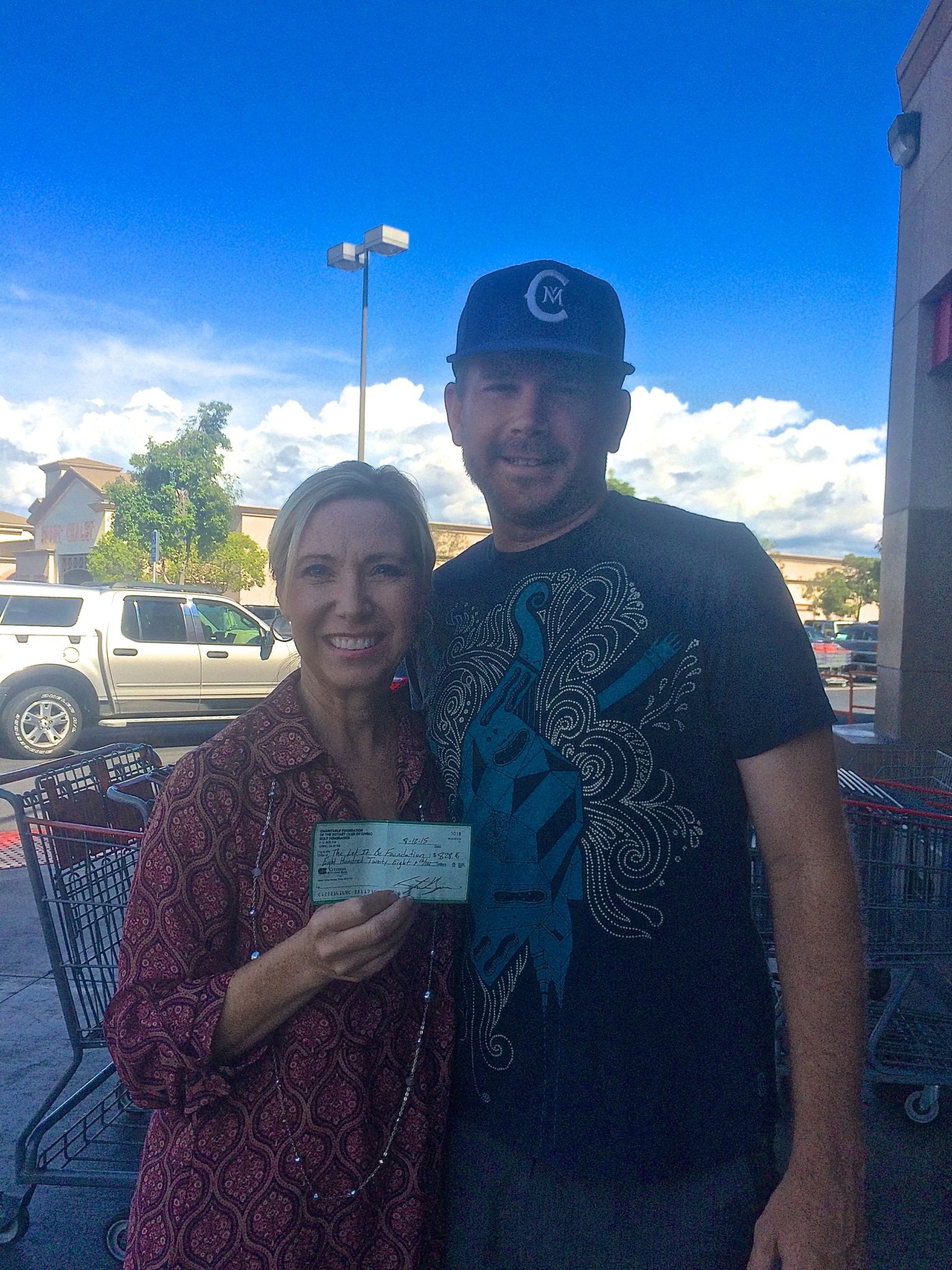 Ron Capps is the Ayala High School Boy's and Girl's Golf Coach. Ron and his teams were instrumental in putting on a highly successful golf tournament. A big thank you to the Ayala High School golf teams who did a great job working the Southern California Charity Golf Classic.
Ron decided to support The Let It Be Foundation.
The Let It Be Foundation cares for an entire family, not just their sick child during the length of medical treatment. A family's income level is not a qualifying factor to determine if they are eligible. Without love and encouragement, the disease can become the focus of their existence.
The Let It Be Foundation was inspired by Karla Asch-Rosen,
who at the age of 15 was diagnosed with an inoperable brain tumor. Karla was a beautiful teen who had been involved in school dance, soccer and was a normal teenager. Her heartfelt desire was to "just be normal" and share her faith with others.
Ruthe Rosen, CEO & Co-founder, was also a big help in supporting the Southern California Charity Golf Classic. And, in an exciting turn of events, Leigh Ann Fatino, one of the organizers of the Southern California Charity Golf Classic is now volunteering with The Let It Be Foundation.
Wounded Warrior Project: $790.17
Gary Christman was all in on the Southern California Charity Golf Classic and worked hard to secure golfers, get sponsorships and donations, and supported the event on the day of the golf tournament.
Gary chose to support the Wounded Warrior Project.
Wounded Warrior Project (WWP) is a charity and veterans service organization that offers a variety of programs, service and events for wounded veterans of the military actions following the events of September 11, 2001.
Bark for Life: $509.05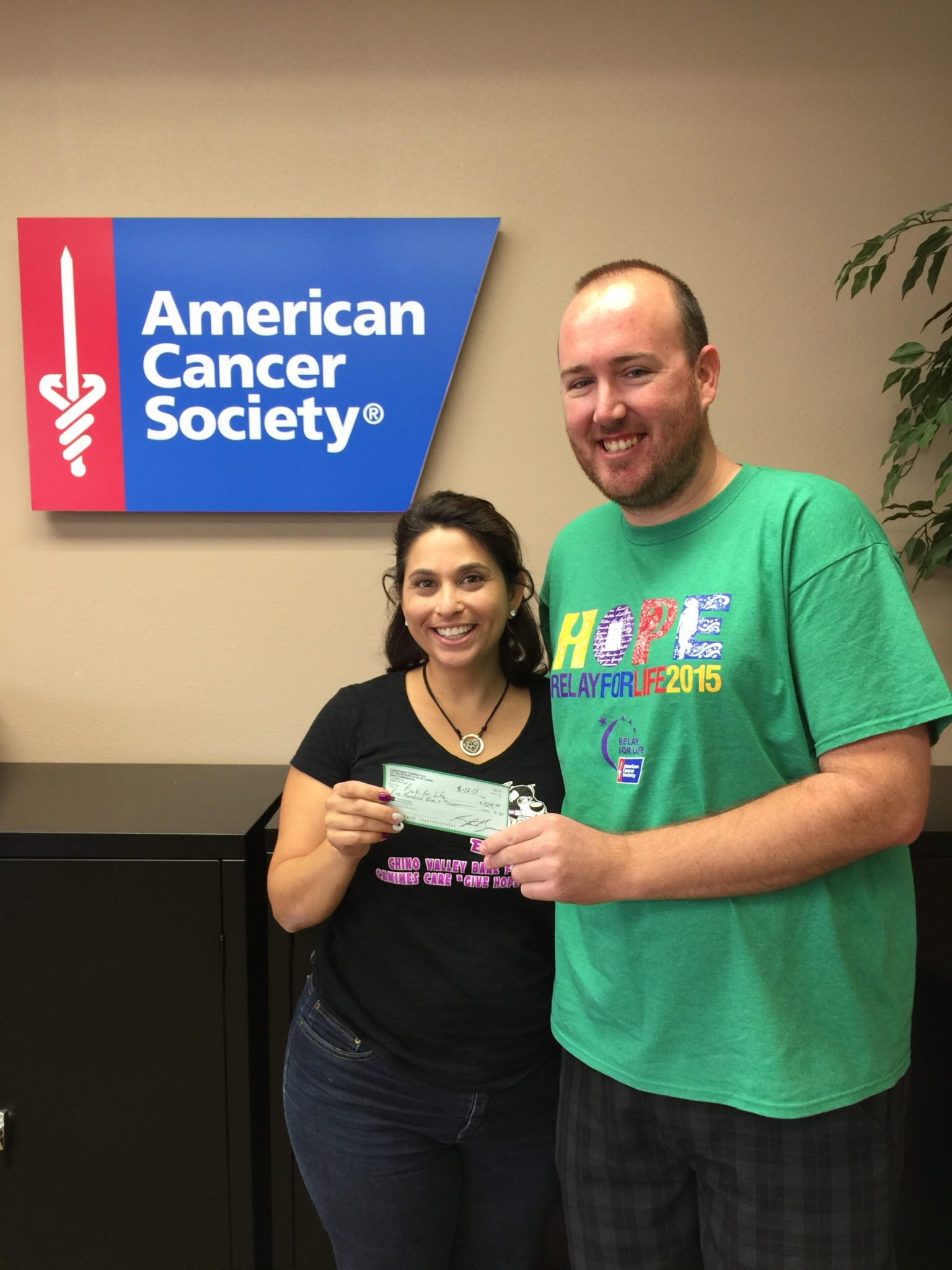 Lyle Ballard, owner of Town Square Florist and KALEO Real Estate Agent, chose to have his portion of the funds we raised go towards Bark for Life.
The Bark For Life movement offers an inspiring opportunity to honor cancer survivors, promote how individuals can reduce their cancer risk, and raise money to help end cancer. And we won't stop until we finish the fight against cancer!
With the support of thousands of volunteers, the American Cancer Society is helping save more than 400 lives a day.
Lyle helped immensely on the day of the event getting everything set up for our golfers.
House of Ruth: $615.42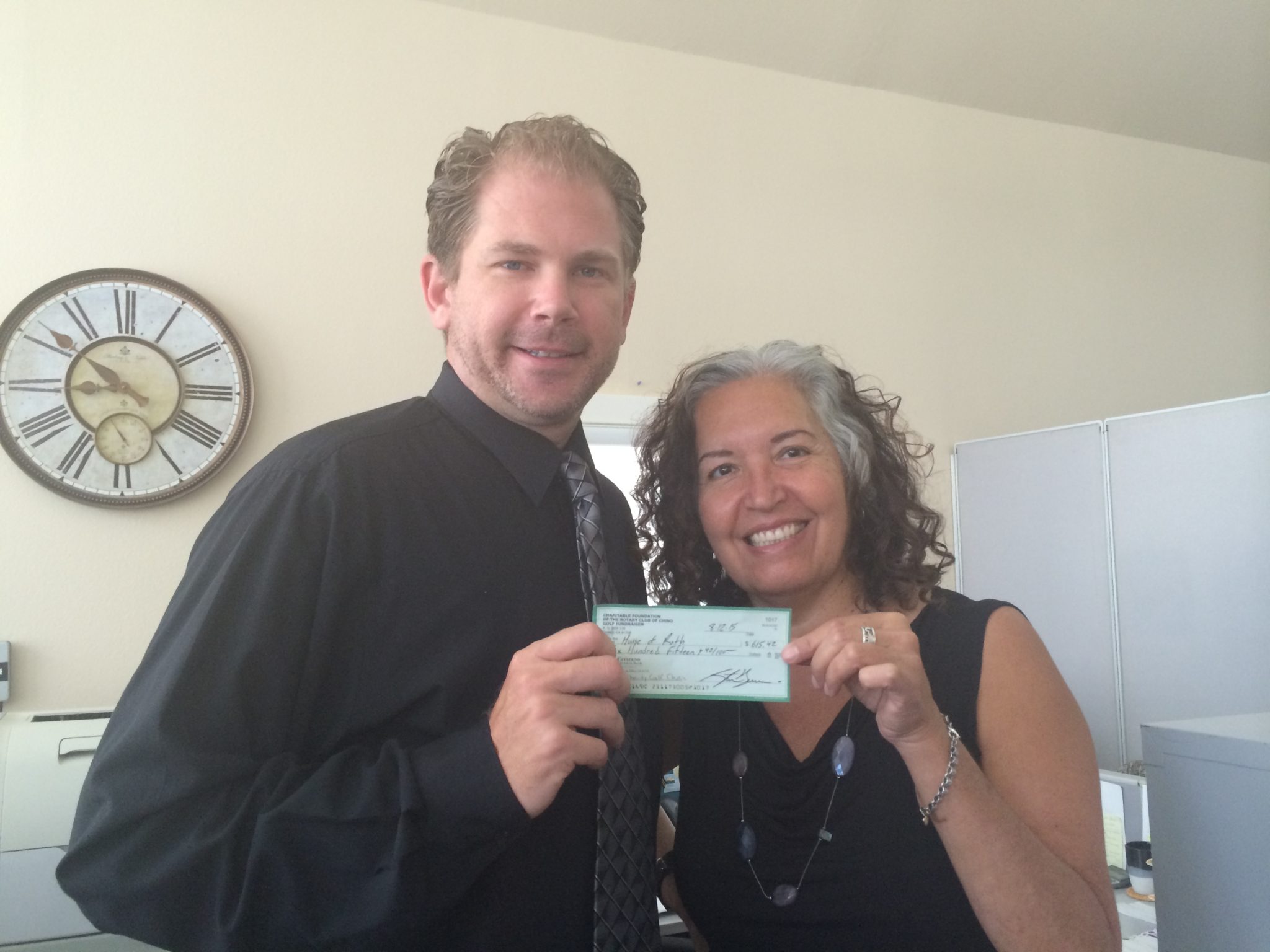 Vicki Finklestein, Executive Director of the Chino Valley Chamber of Commerce, chose the House of Ruth as her charity of choice for the Southern California Charity Golf Classic.
House of Ruth's mission is two-fold: (1) To advocate for and assist women and children victimized by domestic violence and children exposed to violence in transforming their lives by providing culturally competent shelter, programs, opportunities, and education; and (2) To contribute to social change through intervention, education, prevention programs and community awareness.
The Salvation Army: $577.43
The $577.43 raised for The Salvation Army went towards food to feed the homeless and impoverished community for their Wednesday hot dinner.
Belinda Douglas, the Director of Operations for the Salvation Army | Ontario Corps, was an organizer and huge supporter of the Southern California Charity Golf Classic. She was responsible for tons of tasks throughout the planning and during the golf tournament and we could not have done it without her.
The Salvation Army itself donated trail mix and popcorn for the goodie bags.
The Salvation Army Ontario Corps Community Center offers a wide variety of services. Children in the community are welcome to come to the after school program and free music lessons. There are also scouting programs, art lessons, drama, singing, tutoring and Sunday School. On Tuesdays, there is a women's support group. There are community dinners Wednesday evenings and Sunday afternoons. You are also invited to worship on Sunday. All are welcome.
For more than 120 years, The Salvation Army has been delivering services and hope to the less fortunate on the streets of Ontario and Western Inland Empire in Southern California.
The Salvation Army is invested in community outreach, including Food Bank, Box&Hot Meals, Angel Tree, Youth-At-Risk, Summer Camp, Music & Arts Training, Disaster Relief, and Spiritual Counseling.
The Salvation Army is here to help all who come seeking a better life. They offer services to help the homeless, the addicted, the elderly, youth, and anyone else who might need assistance.
Corona Firefighters Benevolent Fund: $1,048.50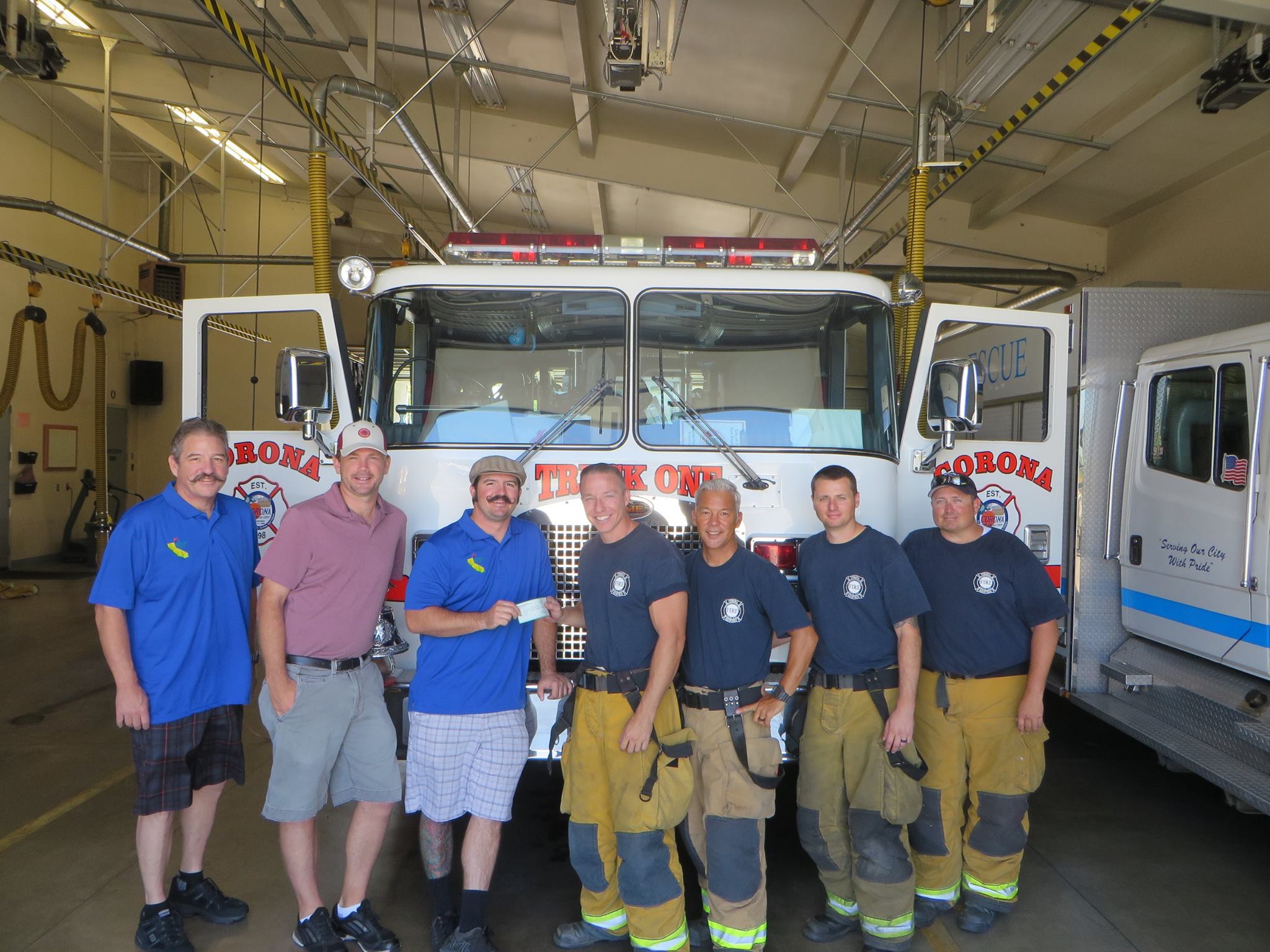 David and Scott Goodwin were essential to running a successful tournament and helped even though they could not attend.
The money we raised is going towards to help Tayvin J. Sheridan.
Tayvin J. Sheridan was born August 5, 2011, six weeks premature. He was born with a hypoplastic right heart, which means the right side of his heart was extremely underdevelpoed. Tayvin was also born with a underdeveloped right arm, right ear and right side facial paralysis. He has received physical therapy since he was 10 weeks old and has undergone two major heart surgeries. Tayvin recently realized his "little ear" is not "normal" and will be having ear reconstructive surgery October 1st. He will also have a heart bypass in 2016 and numerous prosthetic arms in his future.
Tayvin has made tremendous progress and has become such a smart, active and strong toddler. His determination is a true inspiration to watch and we are so proud of him. Please help us reach our goal so Tayvin can get a "normal" ear!
California Scholastic Press Association – $797.77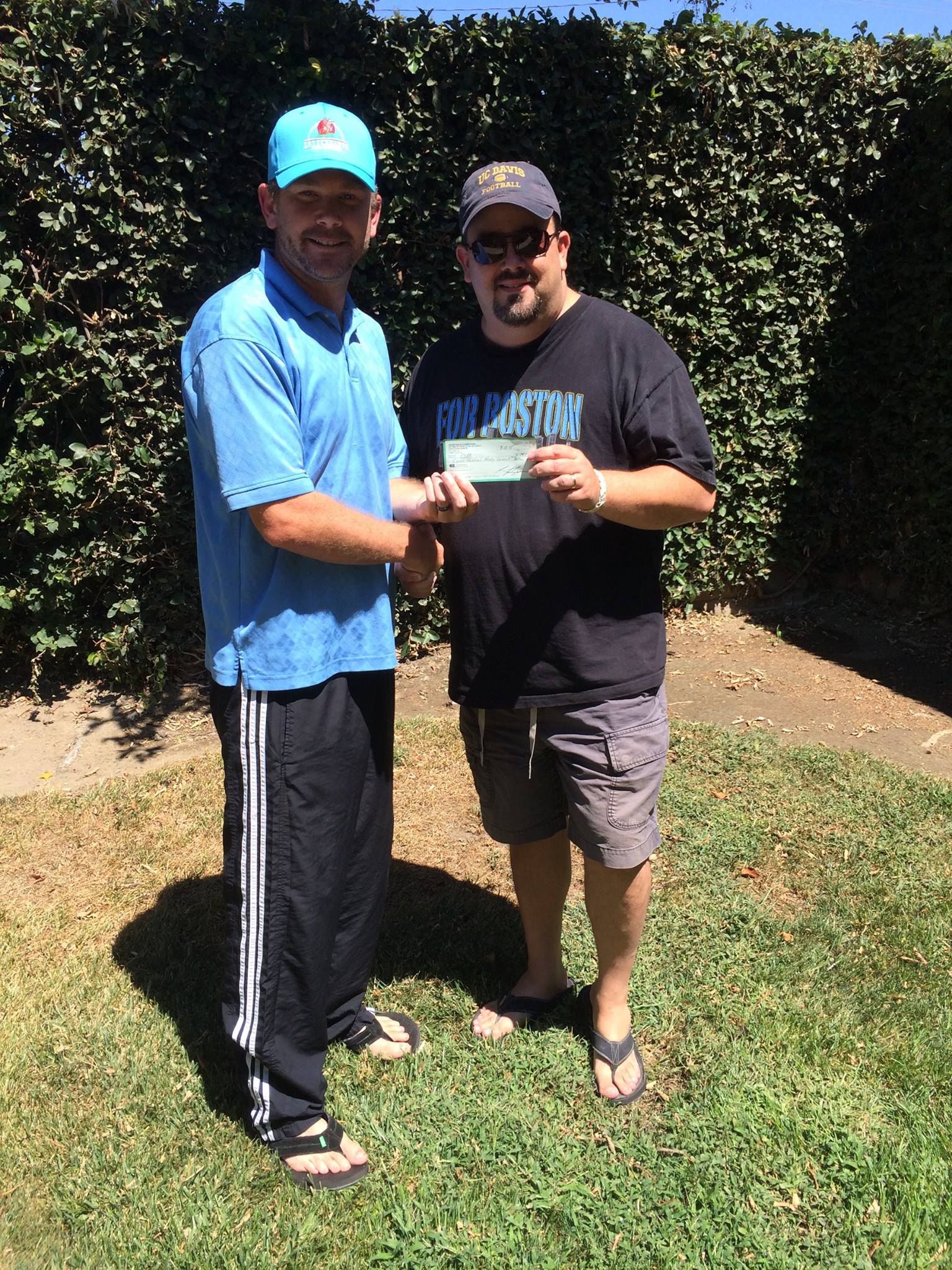 The $797.77 we raised for the Southern California Scholastic Press Association has been earmarked to help pay for a student from the Inland Empire to attend the CSPA Workshop. The CSPA hasn't had many students from the area, but some financial assistance would make it easier for someone.
So, if you know someone in the Inland Empire who is interested in journalism or writing, make sure you tell them about the CSPA Workshop since there is a scholarship waiting for them.
The CSPA is the most prestigious high school journalism workshop in the country and will be back for a 65th consecutive year in 2016.
The workshop accepts 25 juniors or seniors from around the country who are seriously considering a career in journalism. Their volunteer instructors guide an intensive learn-by-doing curriculum that includes news, features, editorial writing, photography, ethics, broadcast and online journalism and social media, and also share their experiences as professional journalists. Recent graduates are studying at some of the top college journalism programs in the country, and they have a growing list of graduates who are enjoying professional success.
Facebook Group Page w/PHOTOS
We also created a Facebook group page which has tons of great pictures of the event. We would love for you to share your impressions of the golf tournament and any photos you took on our Facebook Group Page!
https://www.facebook.com/groups/1469009460083115/
Click on Photos then Albums to see all of our tournament photos.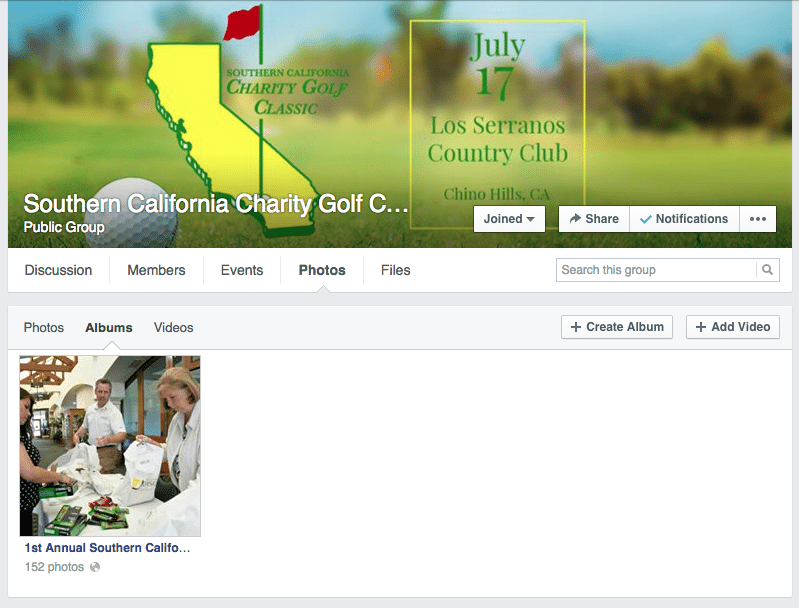 We'll see you at the next Southern California Charity Golf Classic

Lacey and her brother Zeb Welborn founded Welborn Media. She has designed and launched websites, several projects, marketing materials, a podcast, a book and more. Her passions include her family, her friends, creating things and helping businesses grow.

Latest posts by Lacey Welborn (see all)
Share This Article!