Is your golf course doing everything it can through social media to attract brides to your facility?
Weddings are special occasions full of beauty, joy and love. People decorate the space, they get all dressed up themselves and join together to witness love and to have a good time. Which means a public visual outlet, like social media, is the PERFECT vehicle to promote your facility and to attract customers.
Yes, you have wedding staff in place, but we know from experience that sales and service come first. Marketing comes somewhere after – if there's extra time in the hectic schedule of a golf course's wedding coordinator. We've yet to meet a golf course wedding coordinator who doesn't appreciate help when it comes to courting prospective couples online.
We've had some great experience working with courses to promote their wedding venues. In fact, with our marketing plan detailed below, Maderas Golf Club had their two best wedding years EVER. Hire 19th Hole Media.
Need Help Promoting Your Wedding Venue?
19th Hole Media provides wedding venue marketing services that we can perform for your course. Right now we have a special on our 90-Day Online Marketing Services for Golf Course Wedding Venues. To find out more, click the button.
LEARN ABOUT OUR WEDDING VENUE MARKETING SERVICES PLAN
Give Weddings Their Own Social Media Accounts
Frequently asked question: Should my event facility have it's own Instagram account, Facebook page, etc?
The answer is definitely YES!
Why?
Think about it from the perspective of the bride and groom who are evaluating your venue. For them seeing the dedicated accounts is easy and efficient. They can get a quick idea of what their wedding day experience would be like at your course and can picture themselves getting married there. You want them to ask for more details or inquire about a tour. Having a readily available gallery of high-quality images on Instagram or Facebook or the website helps to do that.
Segmenting your audiences is important in today's digital marketing age. Promoting your golf course to brides or your wedding venue to your golfers results in less engagement which leads to less reach on all your social channels.
BUT you should still cross-promote your weddings on the main account for your course every so often. The main account is likely to have more followers and you want to leverage that large audience.
Celebrate Your Couples
You want to showcase the beautiful couples who begin their new lives with you. It not only thanks them for their business, it is also a fabulous first impression for couples who come across the post when they are in the planning stages.
Let satisfied brides recruit future brides for you. Take their best wedding photos and post them on your page.
A Wedding Photo Win-Win: That photo that perfectly showcases the happy couple and shows off your beautiful course.
It makes a definitive visual link between your gorgeous golf course and the perfect unique setting for the viewer's special day.
Pro Tip: Don't just share a massive wedding gallery. Make conscious content choices of what to share and include thoughtful captions.
Gather Galleries
In the shareable age we live in, it's quite common for wedding photographers and/or couples to post their wedding gallery straight to Facebook.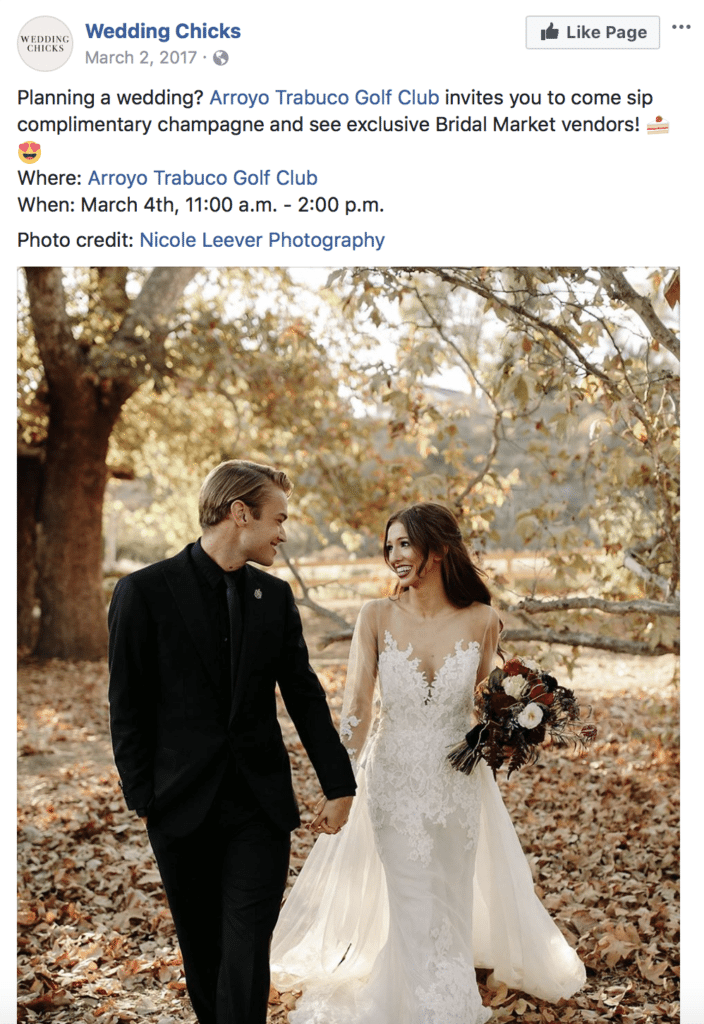 Don't be shy about pursuing galleries from photographers who've recently worked at your venue. You can bet they want their work promoted. During the height of wedding season many photographers can get VERY busy between meetings, shoots, editing sessions and booking weddings. They may not have the time or staff to get their photos posted in a timely manner. Reach out to them and request photos.
Trust me, it's worth it. For all the photographers that come through your venue, you never know when one will have that unique capture that can be spun into social media gold for your course. For instance, we had a unique shot of a bride at Maderas being helped into her shoe. My social media spin: "Might Maderas be the perfect fit for your special day?"
Visuals drive the bus in social media. You want to be working with the best.
High Definition Video
At Riverwalk Golf Club we helped identify and reach out to a wedding videographer who allowed us to use a wedding video to promote the Riverwalk Wedding Venue. With paid advertising, the post itself had:
179,247 impressions
80,286 people reached
28,000+ video views
3,016 clicks
251 likes
21 shares
37 comments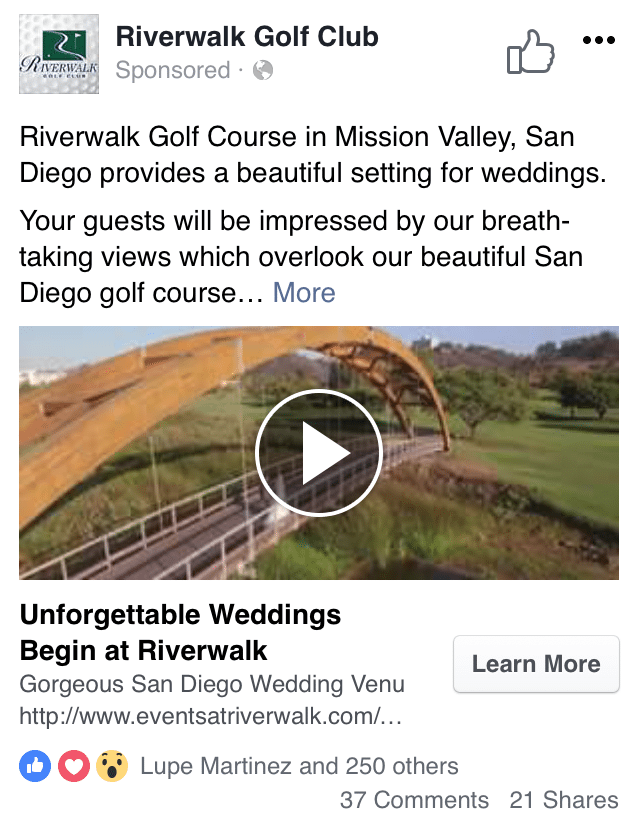 The numbers were great, but that wasn't even the best part. The best part about the video were the shares and comments!
Commenters suggested the wedding venue to friends, expressed their desire to have a wedding there and, probably most importantly, received social proof from commenters who used the venue before and loved it. These comments can then be used to continually market the wedding venue at the golf course.
Here are some examples of the comments left by Facebook users who saw the video ad we posted and advertised on behalf of Riverwalk Golf Club: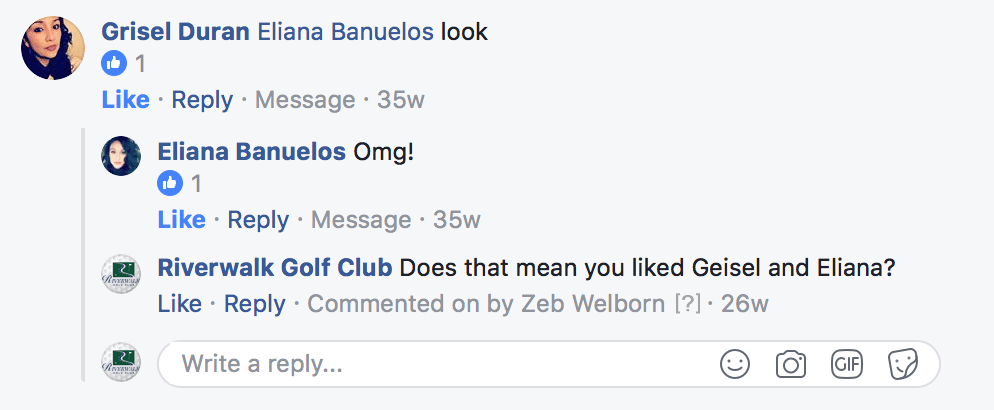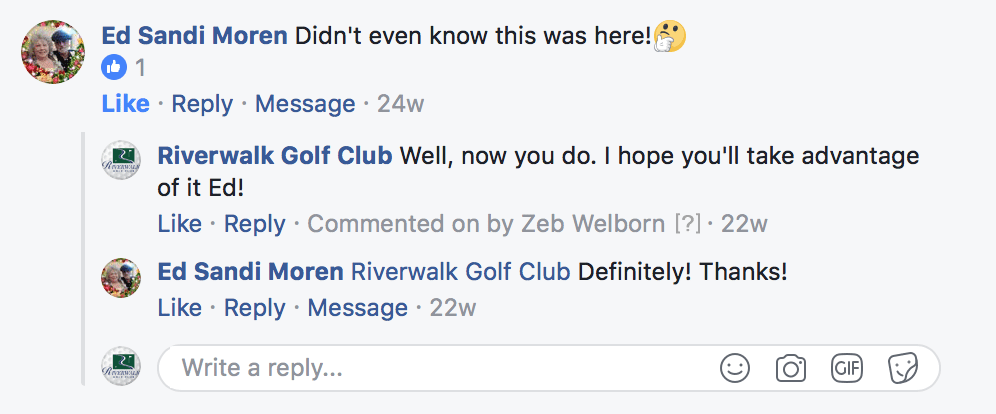 It's easy to see how a good video can go a long ways on social media and help draw people to your venue.
Wedding Wednesday
Weddings have their own day on social media. It's called Wedding Wednesday.
Is your course participating?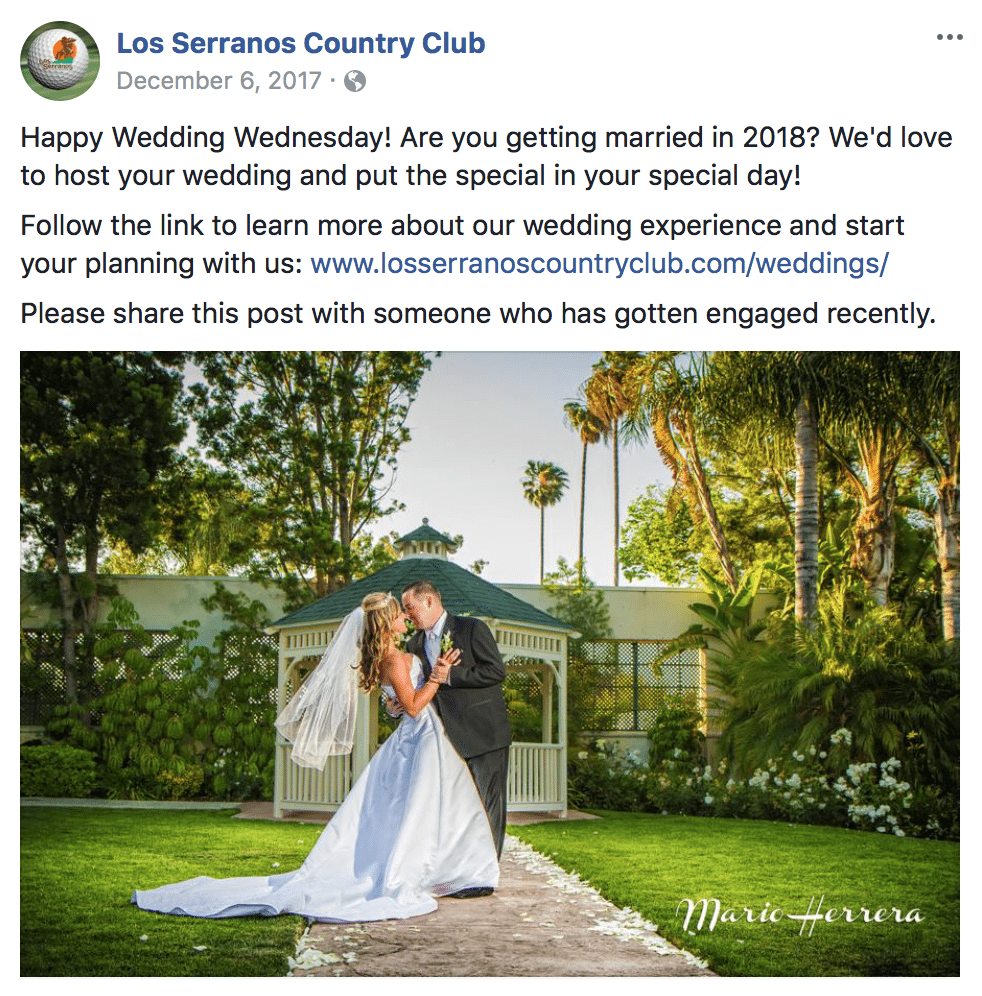 It's a great opportunity to put your best content forward and show how you compare to the competition. It never hurts to set an expectation online and give people something to look forward to. Newspapers and magazines have operated on their expectation principle for decades. Carry the concept over to social media and plan your content accordingly.
Promote Promotions
After great visuals, the next thing most likely to lure online attention is a great offer. Don't be shy about letting couples know about ways they can save with your course. You want to make use of every avenue available to get the attention of potential brides. Which means we're not just talking about Facebook and Instagram, we suggest you also include your website and your course newsletter.
We had one course client who offered a military discount that flew a bit under the radar. We shined a spotlight on the discount with a steady stream of posts on social media. We had another successful promotion sharing early-bird discounts for New Year weddings that we posted and enhanced via Facebook ads.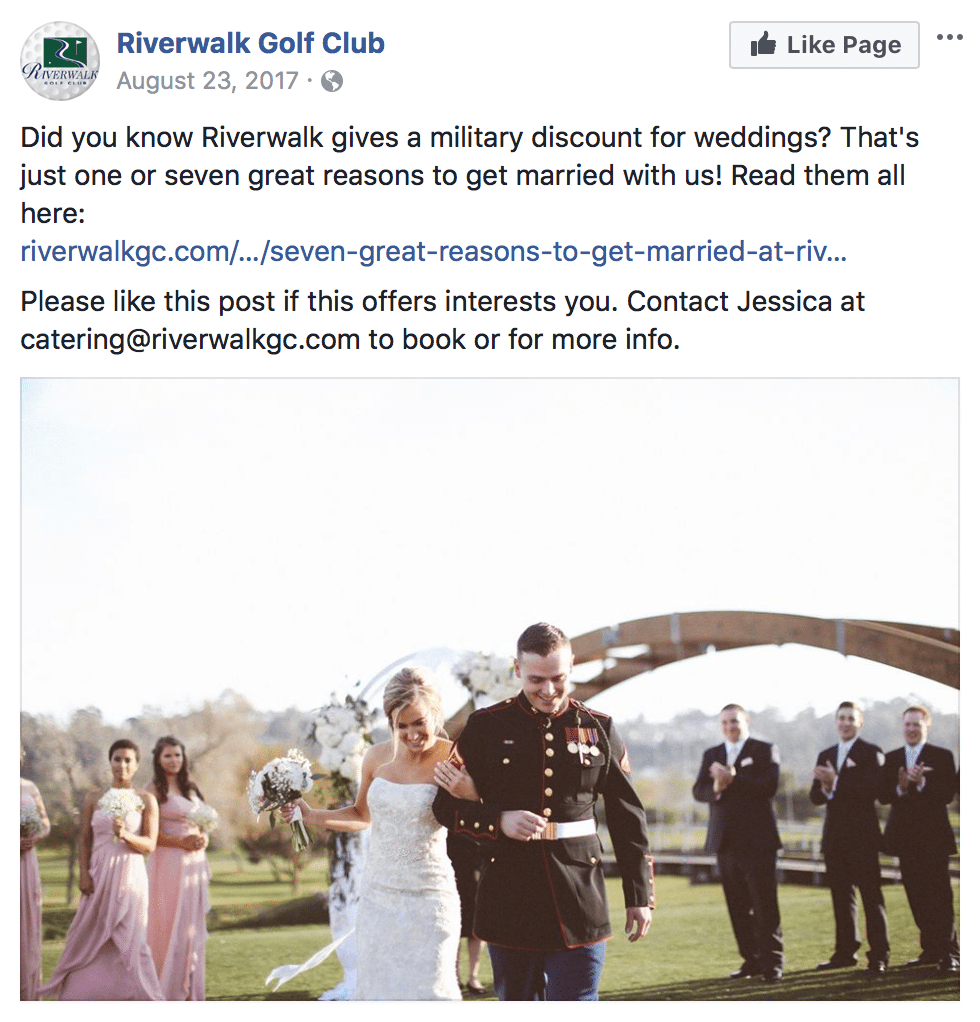 Celebrate Your Vendors
The easiest job Corey had at Maderas was to snap a shot of the fresh flowers rotated weekly in their atrium by two of their floral vendors. Corey would take a photo, tag the vendor and post a compliment about the arrangement. They were happy to have the recognition – every time!
Praise your vendor partners and you both benefit. They benefit from the increased exposure to your social following and you benefit from their increased likelihood to promote and recommend your venue.
There's still nothing better than word of mouth. Today's word of mouth includes online conversations available for the world to see. Testimonials self-generate in social if you give them a place to happen. We've seen it time and time again!
Give Them A Reason – or Ten
When Corey first started creating content for Maderas, the initial objective was to write a blog post to support each entity of the club – golf, food and beverage, pro shop, weddings, etc. – in the first few months.
Corey's first wedding post was titled, "Five Great Reasons To Get Married At Maderas." He used a local wedding planner as a source. The post initially drew modest traffic and dropped off his radar – until he did an audit a few months later on the performance of the initial posts. Corey discovered the wedding post outperformed every golf post written in a similar time frame.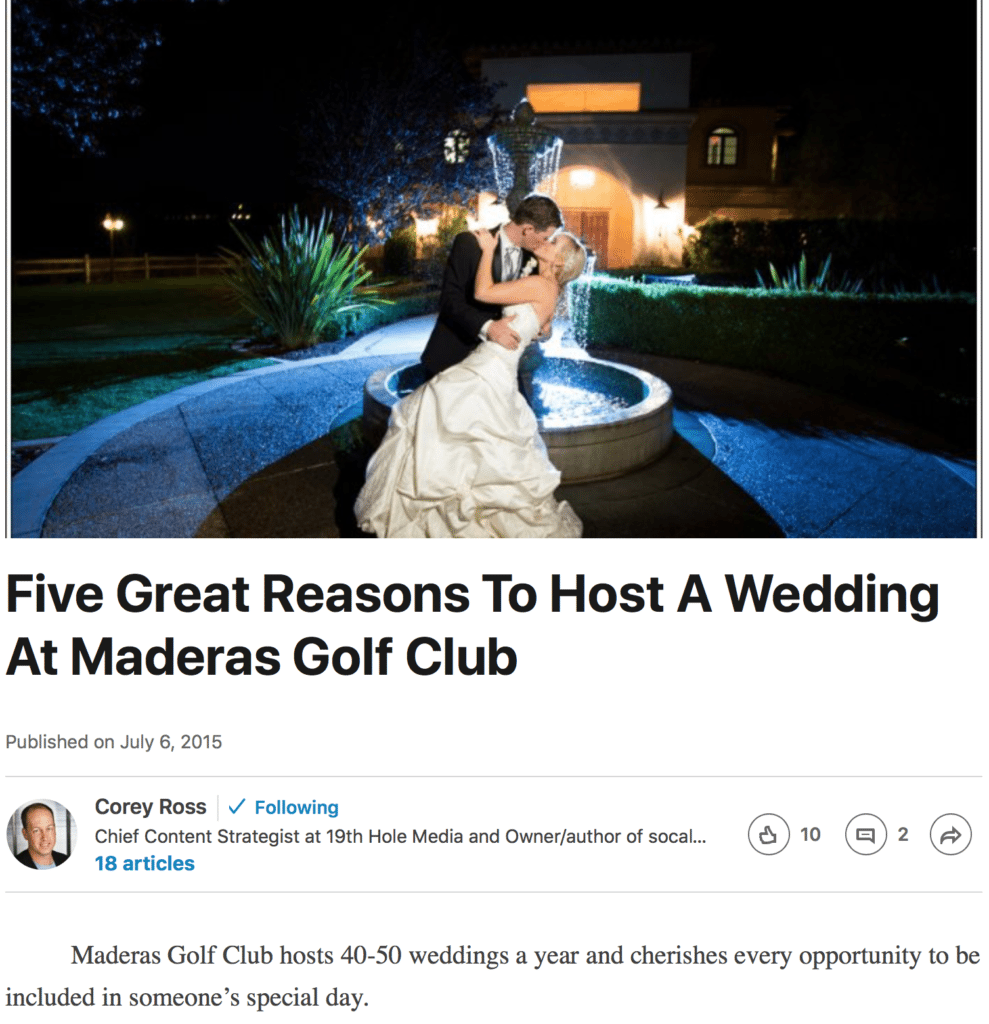 After more time with the facility Corey became more familiar with the entire wedding operation and he expanded on the original post to include ten top reasons to get married there. The best reasons to get married at your course is an evergreen blog post that EVERY course should have.
You can get INFINITE use out of a such a post AND re-purpose it for your own marketing purposes.
Don't make brides deduce why you're the best choice for their special day. TELL them!
We want to help you succeed at getting more weddings for your golf course wedding venue this year. That is why we created this FREE guide that shares exactly how we go about promoting golf course wedding venues:
Follow the steps in the guide and the tips in this post and you will likely be well on your way to having one of the best wedding years ever at your course.
BUT, if you need help to execute our 90-Day Content Strategy Guide for Golf Course Weddings…
19th HOLE MEDIA WEDDING MARKETING SERVICES PLAN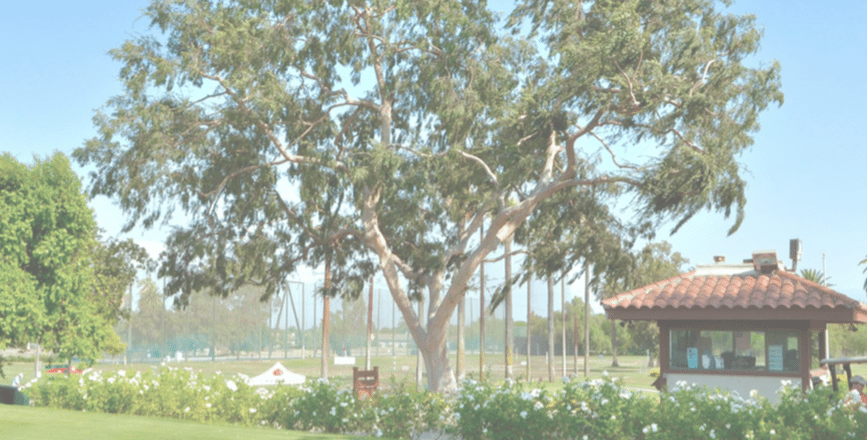 Share This Article!