Contact Zeb: Zeb@WelbornMedia.com
Passed down in the Welborn family is a crisply folded, handwritten letter from the golfing great James Braid. It's dated Feb. 1904. In elegant, maroon colored type across the top it reads, "Memorandum from James Braid, Golf Club & Ball Maker, Golf Club, Romford, Essex." In smaller letters are the announcements – "Open Champion in 1901"  —  "Specialties: Drivers & Brassies" – and "Patronized by Royalty."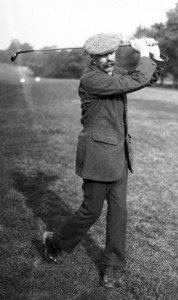 James Braid won the British Open five times – in 1901, 1905, 1906, 1908, and 1910. Braid and his contemporaries Harry Vardon and James Taylor, became known as "The Triumvirate." In the early 1900s they owned golf. Vardon won the Open six times, Taylor five.
The letter is old school – written at a time when penmanship was valued and phrasing had a certain elegance. "It gives me great pleasure to bear testimony that W.B. Sime, whom I have known from a boy, is a first class club maker, good player and efficient instructor. He is steady and of a very obliging disposition. I am sure that he will merit the confidence of any golf club that may appoint him as their professional."
Yours truly,
Jas Braid(signed with a flourish)
This is about the many connections Zeb Welborn has to the game of golf.
Zeb's golf heritage began in the 1800's in a tiny village on the North Sea of Scotland. That's where Zeb's great grandfather Will Sime was born. It's just a few miles north of the mecca of golf — St. Andrews. The family's stone cottage is still there today. It's a mashie away from the centuries old course at Elie, that grew out of what was referred to as the commons – land set aside by royal decree in the 1500's to belong to the townspeople. They turned it into a golf course. Elie was hometown to both Will Sime and James Braid. They both learned to play golf on the seaside links, and learned to craft clubs by hand. Braid was a little older than Will, and by 1904 had established himself as one of the three best golfers in the world. When Will boarded ship to come to America at the turn of the century, he carried a letter of recommendation in his pocket from his childhood friend and mentor. With Braid's endorsement Will quickly found work designing woods for golf club manufacturers. He designed golf courses throughout the Eastern United States. He eventually became the head wood designer for MacGregor-Canby in Ohio. His designs were popular. One design in particular — the Bap — named after the biscuits his Scottish mother baked, became the biggest seller of its day. Remember a few years ago how popular the Big Bertha was? The Bap was kind of like that.
Zeb's grandparents on his father's side are lifelong golfers. For 25 years they were members of the Western Hills Country Club. For a portion of that time John was the president of their Men's Club.
His grandparents on his mother's side — also golfers. His grandmother, Catherine Sime Hoover, who learned the game from her Scottish father, played in tournaments in and around Dayton, Ohio, in her teens and early 20's, using clubs handmade for her by her father. She married an aeronautical engineer/pilot during WWII, who surprised her with a one-of-a-kind golf cart he had designed using airplane parts. That little red aerodynamic pull cart accompanied her on golf rounds into her 70's.
Zeb's father, newspaperman and writer Larry Welborn, has two holes-in-one to his name. For years, Larry along with his photographer friend and golf buddy, Lazarus, collaborated on golf stories for Southern California newspapers and magazines. Larry researches and writes about the courses and the highlights of their rounds. Laz, a world-class photographer, contributes artwork that is dynamic and inspiring. Among the many venues they've featured are Pebble Beach, Bandon Dunes, and St. Andrews.
 Zeb's cousin, pro-golfer Ryan Welborn, has been a moneymaker on the California Golden State Tour, making it to the U.S. Open in 1999. He and his family are currently managing and operating Foley's on the Green Bar & Grill on the Meadow Park Golf Course outside of Tacoma, Washington.

Then there's Zeb himself. The home he grew up in is within a solid 5-iron of the 11th hole of Los Serranos Country Club.  His very first job, at 14, was at Western Hills Country Club, where his grandparents played so many rounds.  His mother would drop him off in front of the cart barn before dawn each morning.  His second job was at the nearby Los Serranos Country Club in Chino Hills – keeping carts running and working the pro shop.  His time spent on his high school golf team gave him the chance to play courses throughout Southern California. After graduating from Cal State Fullerton, Zeb taught history and helped coach the both the high school's soccer and golf teams. A few years ago his passion for education prompted him to start The Tutoring Solution – a service that offers one-on-one tutoring to youngsters in the Inland Valley.
Always interested in the business world, the experiences he gained in establishing and promoting that business led him to join forces with his sister to launch Welborn Media. One of their first projects was establishing a social media presence for the historic Los Serranos Country Club, where both he and his brother had worked and played as teenagers.
Welborn Media focuses on utilizing social media to promote businesses, organizations, and nonprofits. His sister Lacey is a talented, cutting edge web designer. And Zeb has established himself as a social media and internet marketing expert.  Whether it's Facebook, Linked-In, Twitter, Google+, You-Tube, search engine optimization, or website design, Zeb has made a practice of understanding and using the internet in fresh and creative ways to connect businesses and promote causes.
With the knowledge and skills he's honed, Zeb has been successful at applying his social media savvy to golf course promotion — happily joining his passion for educating businesses on the vast potential the internet offers with his love of the game of golf.
If you have a little time – between rounds – check out the Welborn Media website at www.welbornsocialmedia.com
You'll get a taste of the enthusiasm he has for sharing what he's so good at with others, and a glimpse of how appreciative his clients are of his work.
"He is steady and of a very obliging disposition. I am sure that he will merit the confidence of any golf club that may appoint him…"
That's what James Braid said about Will Sime. The same can be said about Sime's great-grandson Zeb Welborn.
Get Our Golf Course Marketing Emails

Lacey and her brother Zeb Welborn founded Welborn Media. She has designed and launched websites, several projects, marketing materials, a podcast, a book and more. Her passions include her family, her friends, creating things and helping businesses grow.

Latest posts by Lacey Welborn (see all)
Share This Article!