Contests for free stuff are cool.
Not only are they cool, but they are a great way to create word-of-mouth marketing at your golf course.
Earlier this month we ran a Facebook contest for our client and here's how we did it.
The Contest:
This particular client was in the process of renovating their putting green.  The course invested a lot of money to improve the experience for their golfers and wanted to let as many golfers as possible know about it.
Our Facebook contest announced the upgraded putting green and the copy for the contest went something like this (picture below):
"Contest for Free Golf:  If you could name our NEW putting green . . . What would you name it?
The comment with the Most "Likes" will win a Free twosome of Golf, Monday – Thursday, AND our Favorite Comment will also win a Free twosome Monday – Thursday.
Contest ends at 5pm PST on Friday, November 21.
Good Luck!"
The Anatomy of a Great Facebook Contest for Golf Courses:
Contest is Easy to Enter – The contest needs to be easy to enter.  This contest is super easy to enter.  All they need to do is name the putting green.
Rules are Simple – The simpler the contest is, the more likely people are going to enter it.
Compelling Picture – There needs to be a unique, authentic and compelling picture to make a great Facebook contest for your golf course.
Valuable Prize – The prize needs to be something your golfers want, but doesn't need to be anything over the top.  I've seen golf courses give away 10 free rounds of golf to a contest winner or more.  A free twosome is all you need to get massive engagement on your Facebook page.
Clear End Date – Make sure you identify the end date of your contest.
Promote – Be sure to promote your contest in as many ways as you possibly can.  For this particular contest the golf course announced it via their email newsletter.  Other ideas could be to inform golfers at the point of sale, on the phone, and on your website.
Boost It – We knew this Facebook post would be popular so we boosted it.  Boosting a post on Facebook means Facebook will show it to more people.  For this contest we boosted the post by spending $5. A minor investment for a significant increase in exposure.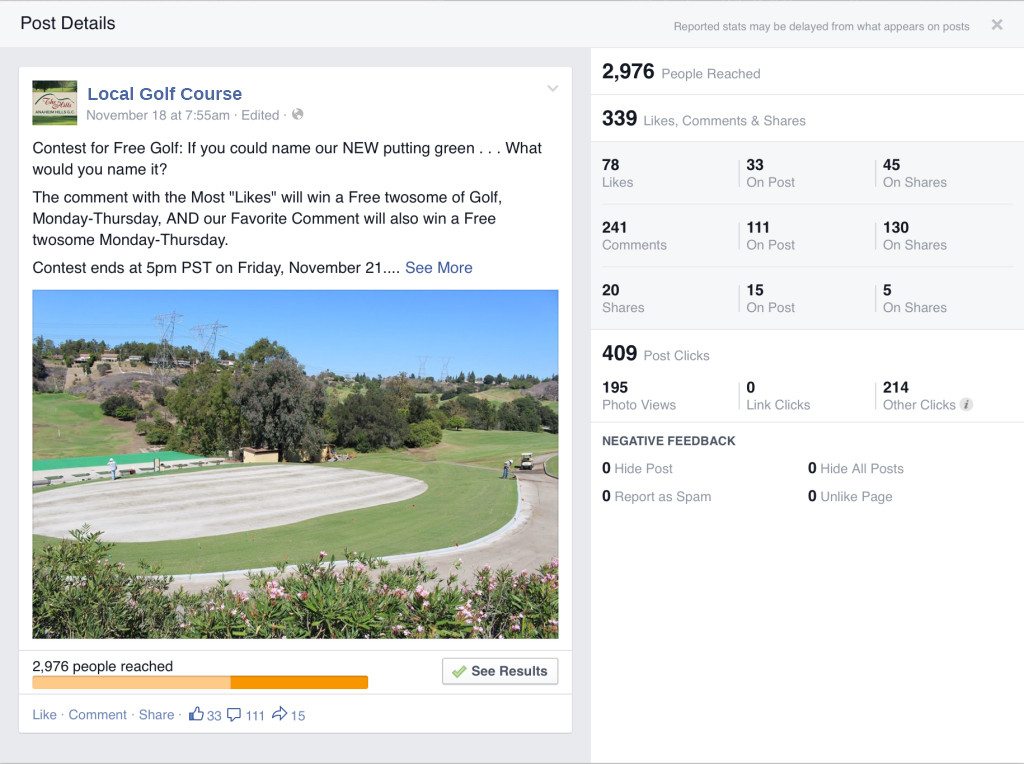 In the first comment to any contest post you should include the following disclaimer:
"By entering this contest, you agree to a complete release of Facebook from any or all liability in connection with this contest. This contest is in no way sponsored, endorsed or administered by, or associated with, Facebook."
Now that you know how to create a killer contest, let's take a look at the type of results you can expect from running one.
The Results:
At the start of this contest this particular Facebook page had 883 "Likes."  Just 4 days later, their Facebook grew by 47 Likes to 930.
The contest itself reached 2,976 people, was liked 33 times, commented on 111 times, and shared 15 times.  From all posts, including shares, the post had more than 339 likes, comments, and shares – 78 total likes, 241 total comments, and 20 shares.  The post was also clicked on 409 times.
For a Facebook page with less than a 1,000 followers, those numbers are pretty darn good.  Nearly 3,000 people saw this and better yet, more than 400 people engaged with this one post.
By the Numbers:
47 New Likes – 47 new golfers exposed to golf course content for life.
2,976 People Reached – 2,976 people physically saw this post
1,741 Organic Reach – Post reached 1,741 people for free
1,235 Paid Reach – Paid $5 to boost the post which went to 1,235 more people
33 Likes on the post itself
111 Comments on the post itself
15 Shares on the post itself
339 Total Likes, Comments and Shares after considering shared content
78 Total Likes
241 Total Comments
20 Total Shares
409 Clicks on the post itself
Follow Up:
The benefits of running a Facebook contest for your golf course don't end there.  A great contest leverages the experience of the golfers who entered and won the contest.
Be sure to announce and recognize the contest winners as soon as you can with a comment on the contest post.  Be sure to ask them to send you a direct message with their contact information.  Don't forget to get their email address so you can add them to your email list.
Then, use their profile pictures and announce them on your main Facebook page giving them some recognition but also reminding your Facebook following that if they check your posts they can win free golf at your golf course.  This will give you an opportunity to advertise and market to your audience moving forward for free.
Now your contest post gets even more visibility.  In this post we reached an additional 495 people with 143 post clicks, 15 likes, 8 comments and 1 share.
The final thing you want to do is send an email to the winners.  This is the email we sent to the winners of this contest:
Congratulations on Winning A Free Twosome at (Golf Course)!
"(Name),
Congratulations on winning a free twosome of golf at (Golf Course).  Hope you enjoy your experience here.
If you're interested, please take photos of your round and share them with me so I can post them on our Facebook page.
Thank you for participating!
Zeb"
If you're open to it.  An even better email to send out would be something like this:
Subject:  Congratulations on Winning A Free Twosome at (Golf Course)!
"(Name),
Congratulations on winning a free twosome of golf at (Golf Course).  Hope you enjoy your experience here.
If you're up for it, we'd love to play golf with you and use some of the photos from our round on our Facebook page.  May we join you?
Totally understand if you'd like to play golf without us.  Either way, just let us know.
Thank you for participating!
Zeb"
If they do invite you to join them for a free round, it's a great opportunity to take lots of pictures you can then use to post on your Facebook page for months to come.  It also gives these golfers a chance to become loyal to your golf course.
If you can't make it to play golf with them, send the first email and hopefully they will send you a picture of them at the golf course and you can use that to promote your free golf giveaway (and your golf course) even more.
Interested in learning more about running a Facebook contest for your golf course? Contact Zeb at (909) 973-9089 or email at Zeb@WelbornMedia.com
Bonus Content – Learn How to Run a Facebook PHOTO Contest!
Exclusively for members of our email list we're sharing how to run a Facebook Photo Contest, the results we achieved, and teach you how to run your own photo contest.
Sign up now to learn how we ran a Facebook photo contest for another client of ours where we reached 2,972 people, collected multiple golfer-generated photos, and how we used those photos to promote our clients golf course even more!
Click Here to Learn How to Run a Facebook Photo Contest!
Share This Article!